Announcement from the Circle of Atonement:
The Circle's First Satellite: Course Oasis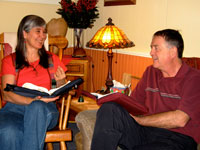 Since the very beginnings of the Circle, we have planned on having satellites, teaching centers that follow our approach and extend our overall mission. We have envisioned a future in which Circle satellites can be found in major cities all over the world. We have seen this as a crucial part of establishing a global Course tradition that is focused on doing the Course as the author laid it out.
We are therefore extremely happy to announce our first satellite! This is Course Oasis in Ottawa, Ontario, Canada. It is headed up by Mary Anne Buchowski, with the help of her husband James Gregory. Mary Anne, as many of you know, spent several years in Sedona working for the Circle, being trained as a teacher, being mentored by Robert, and teaching both our Workbook classes and a number of personal pupils.
Mary Anne is deeply steeped in our model and we have full confidence in her fidelity to the Course. A primary reason why there have been no Circle satellites before now is that so much is required of the person leading one. That person needs to have an in-depth understanding of the Course, be immersed in and committed to the Circle's model, be diligent in walking the path on a personal level, dedicate his or her life to being a teacher, have sound personal integrity, and have a close relationship with the Circle. Mary Anne meets all of these qualifications.
Mary Anne has been associated with the Circle from its very beginnings. She and Robert met in Ottawa in 1989. She came here to help us put on our grand opening in 1993. Throughout the 90s, she visited Sedona regularly to strengthen her connection (on one of those visits in 1996 she met James, who also happened to be from Ottawa!). She moved here to be our administrator in 1999. Then, after returning to Canada in 2004, she founded Course Oasis with James in 2005. Course Oasis currently offers classes, retreats, and personal mentoring and counseling, along with selling the Circle's books in Canada.
Please join with us in celebrating a milestone in our goal of establishing a truly global Course tradition.
(This announcement first appeared in the Circle's Newsletter, A Better Way, December 2008/Issue 84.)